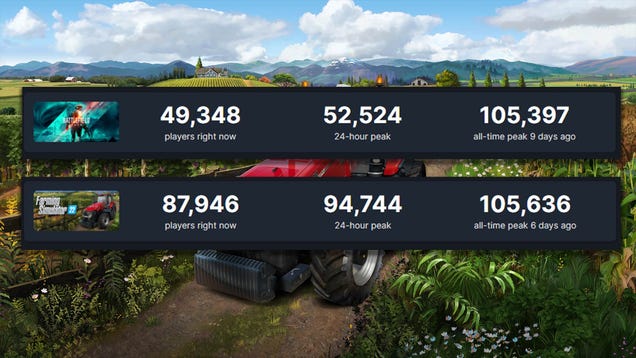 EA's latest military shooter is less popular on Steam than the next entry in the Farming Sim franchise
Battlefield 2042 isn't having a great launch. Between bugs, a lack of content, and other problems, including the surprise release of Halo Infinite's free multiplayer, Dice and EA's big shooter is in the news for all the wrong reasons. And now, it seems more players on Steam want to go farming than shooting, as the recently released Farming Simulator 22 has more players than BF 2042.
Released on November 19, Battlefield 2042 currently has about 50k players online, with a peak of 52k in the last 24 hours. Meanwhile, Farming Simulator 22, released on November 22, sits at nearly 88k concurrent users and peaked in the last 24 hours at 94k.
Using SteamDB to compare the highest number of players each game has hit since their respective launches was interesting, as Farming Sim 22 and BF 2042 are basically tied, with Farming Sim hitting 105,636 players and BF racking up slightly less, 105,397 players.
#SteamTopSellers for week ending 28 November 2021:

#1 - Farming Simulator 22
#2 - Battlefield™ 2042
#3 - Cyberpunk 2077
#4 - Red Dead Redemption 2
#5 - Valve Index VR Kithttps://t.co/xKGeZySbAK

— SteamDB (@SteamDB) November 28, 2021
Read the full article on Kotaku