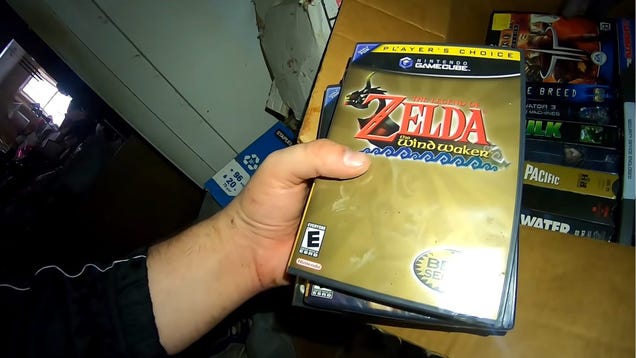 Like a real-life Tomb Raider run sans picturesque vistas from an ancient civilization, a pair of YouTuber game hunters found themselves in an extremely messy room that had been locked for close to 20 years. But amid the filth, they found a treasure trove of factory-sealed video games, including mainstream hits like The Legend of Zelda: The Wind Waker, cult classics like Drakengard for PS2, and just plain weird stuff like a limited edition Resident Evil 4 chainsaw controller.
Aimee and Korbin, who prefer not to share their last names, are the full-time reselling duo behind the YouTube channel Cheap Finds Gold Mines, and usually make their finds through Goodwills and yard sales. But after a viewer tipped them off about a house that was "kind of nasty," the pair found themselves scouring a very gross environment like Uncharted's Nathan Drake and finding all sorts of video games, collectibles, and Blockbuster-branded VHS tapes. They've made three videos about the experience so far.
Their second video, embedded above, is not for the faint of heart. The house for all intents and purposes has no walkable space, as any trace of it is littered with ceiling debris and cardboard boxes warped by time and infested with cockroaches. The pair are not pickers by trade, and admit they were ill prepared for their search when they arrived at the house sans gloves and wearing shorts and casual shoes.
"Once we got there and we saw the quality of stuff, I was not gonna go home and change," Korbin says.
Read the full article on Kotaku